netAlly er uundværlig når der skal testes og fejlsøges på Wi-Fi og kablede netværk
Wi-Fi 6 Wireless Analyzer
Intuitive user interface provides actionable intelligence, speeding and simplifying wireless security audits, network deployment, troubleshooting and validation.
AirCheck G3 Pro is the most cost-effective hardware-enabled site survey solution for Wi-Fi 6/6E networks. It provides network professionals of any skill level with complete and accurate information to survey and validate Wi-Fi deployments and changes, resolve wireless connectivity and performance problems quickly, speed up closure of trouble tickets, and ensure your Wi-Fi network meets end users' needs.
With powerful tools suited for wireless engineers, but ease of use for technicians and remote "smart hands" AirCheck G3 Pro makes your entire team more productive
A rugged, handheld purpose-built tester supporting the latest Wi-Fi technologies (802.11a/b/g/n/ac/ax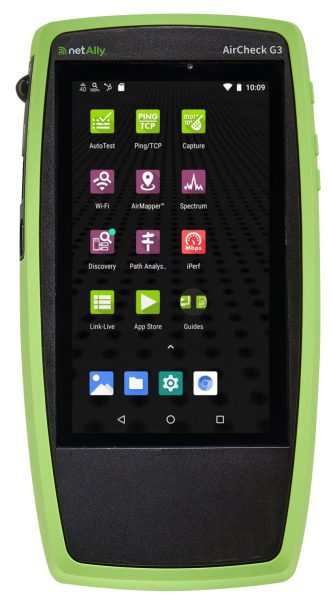 AirCheck G2 provides fast, simple, and accurate Wi-Fi validation and troubleshooting, reducing the time to resolve wireless issues.
AirCheck G2 simplifies wireless testing, enabling even less experienced technicians to solve more problems by providing:
A rugged, handheld purpose-built tester supporting the latest Wi-Fi technologies (802.11a/b/g/n/ac)
A one-button AutoTest, which quickly provides a pass/fail indication of the wireless environment and identifies common problems
Instant visibility of test results including network availability, connectivity, utilization, throughput, security settings, rogue hunting, and interference detection
Connectivity to a centralized reporting and test results management platform, Link-Live, that facilitates greater job visibility, collaboration, project control and fleet management for larger distributed environments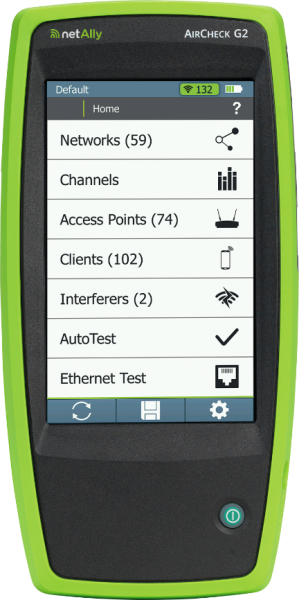 The smart network tester for the connected world
Improves the effectiveness of network professionals by combining enhanced copper and fiber Ethernet testing with the Android™ OS
Streamline installation and troubleshooting workflows using vendor/device apps for configuration and triage
The first solution to offer a patented TruePower™ PoE test that supports 4-pair 51-Watt UPOE under load
Automated documentation in Link-Live cloud-based results management database saves time and improves collaboration
The NetAlly Test Accessory works together with the AirCheck G2 Wireless Tester to run wireless network performance tests with relative ease
The NetAlly Test Accessory acts as an iPerf3 server for tests run by the AirCheck G2 Wireless Tester and can be plugged into any Ethernet port on your network (to verify performance to a remote site, plug the accessory on an ethernet port at the remote site).
The NetAlly Test Accessory operates with either Power over Ethernet (PoE) or AA batteries. If you are using batteries only, press and hold the power button for two seconds to turn on the unit. If PoE is available on your network connection, the unit starts up automatically.
As soon as you power on the NetAlly Test Accessory, all the LED symbols illuminate yellow for 15 seconds while the unit starts up. Then, the accessory attempts to connect to your ethernet network using DHCP, lighting up each LED with the corresponding connection step. After its done, you are ready to start testing!
Built-in iPerf server and link tester makes testing easy
Tilmeld dig vores nyhedsmail, for information om ny teknologi, produkter og kurser.